Bronte Beach to Waverley Cemetery returning via St. Thomas Street to Bronte Road. Approximately 2.8kms (return). Medium grade. Picnic areas with barbecues, kiosks and toilets at Bronte Beach.

Points of Interest:

1. Bronte S.L.S.C. perched on top of the cliffs at the beach's northern end was the first club to use a surf boat for life saving.

2. Bronte Baths were opened in 1887. Regulations stated that "Gentlemen could bathe between daylight and 10a.m. and from 4p.m. 'till dark each day. Ladies were welcomed from 10a.m. to 4p.m. daily except Sundays and Public Holidays, reserved exclusively for men".

Bronte "bogey hole" next to the baths is a natural swimming hole. Some rocks have been added for extra safety. It is thought that "bogey" is an aboriginal word meaning "to bathe".

3. Trams ran down to Bronte Beach via this cut through the sandstone, completed in 1911.

4. Waverley Cemetery was established in 1877. The first burial took place that year. The Cemetery is a virtual history book, containing graves of many famous Australians: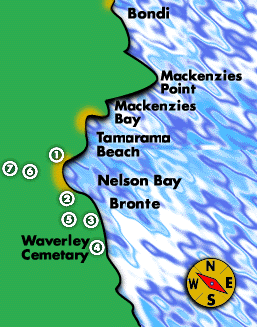 Henry Kendall - a poet (location: Section 6, 320 Vault D). "Awake him not; surely he takes his fill of deep and liquid rest, forgetful of all ill" is inscribed on Kendall's monument. Kendall spent most of his life in the bush, in northern New South Wales, and was brought to Sydney suffering from consumption from which he never recovered. His best selling work was "Songs from the Mountains".
Henry Lawson - described as poet, journalist and patriot (location: Section 3, G 516). The Bulletin summed up his story: "His work sold moderately well, but not well enough to make his lifepath easy and he was continually faced with the fact that a continent that praised his work from shore to shore had scarcely a home to offer him where he might live free from want". He was given a state funeral.
Dorothea Mackellar - poet (location: Section 6, 832-833 Vault L). Born at Rose Bay, she wrote her first poem when only 19 - "My Country". It was first published in London in 1908 then reprinted in Sudney. It became the most popular poem of its time.
Lawrence Hargrave - aeronautical pioneer, inventor and explorer (location: Section 9, 1117). As early as 1887, Hargrave built several types of engines powered by petrol and compressed air and in 1893 invented the box kite. Hargrave "flew" in 1894, by attaching himself to a huge four kite construction attached to the ground by piano wire. When the first European aircraft were built, they used Hargrave-type box kites for their supporting surface.

The cemetery is open from sunrise to sunset, and its office hours are 9-5 Mon to Fri, 9-3 Sat. Visit their web page at www.waverley.nsw.gov.au/cemetery or phone 9665 4938. There are guided tours, especially during the winter months.
5. From Bronte's hilltops you can see federation houses facing the sea.
6. Bronte House was designed by colonial architect Mortimer Lewis as his own home. However, because of financial difficulties he was forced to sell it before the building was completed. Lowe, a member of the NSW Parliament completed the house in 1845. Waverley Council acquired Bronte House in 1948. The house has been restored and is open to the public once a year. In the 1860s it was noted "the residence was sheltered by verandahs flanked by 4 round towers. The drawing room overlooked the bay. A nearby fresh water well was supplied by springs, and lawns and flower gardens led into shady walks down to the sandy beach."
7. A waterfall at the top of Bronte park feeds the stream flowing through lush vegetation, made up of Coral treees, Eucalyptus, Norfolk Island Pines and Moreton bay Figs. Many native finches inhabit the lower Banksia.

Reproduced by kind permission of Waverley Council.